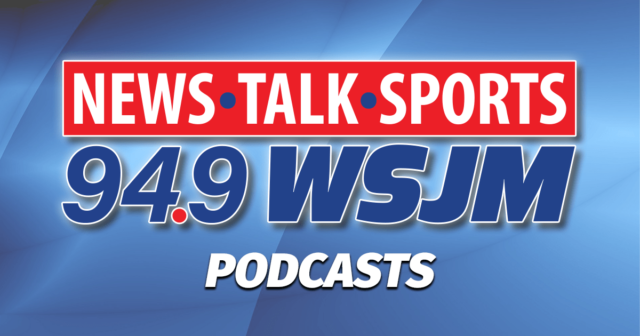 WSJM Sports December 15, 2021
NBA
Last night
Detroit Pistons @ Chicago Bulls – POSTPONED
Tonight
Indiana Pacers @ Milwaukee Bucks 8 pm
Steph Curry Breaks NBA's All-Time Made 3-Pointers Record
Steph Curry is staking his claim as the NBA's best all-time shooter. The Warriors guard broke Ray Allen's all-time made three-pointers record on Tuesday night against the Knicks. In the first quarter, Curry tied then broke Allen's record which stood at 2,973 made threes. He now sits at 2,977 after making five shots from deep in the Warriors win over the Knicks.
NHL
Last night
Detroit Red Wings 2, New York Islanders 1
Tonight
Washington Capitals @ Chicago Blackhawks 8 pm
Wings Top Isles
Alex Nedeljkovic made 33 saves and the Detroit Red Wings ended a three-game skid with a 2-1 victory over the New York Islanders. Dylan Larkin got his team-high 11th goal and Michael Rasmussen also scored for the Red Wings. Anders Lee scored and Ilya Sorokin made 37 saves for the Islanders, who had won two of three following an 11-game losing streak. Following a scoreless first period, Larkin broke the deadlock at 10:32 of the second.
Blackhawks Host Capitals Tonight
The Blackhawks are back on their home ice tonight to clash with the Washington Capitals. Chicago had its game on Monday against Calgary postponed due to COVID-19 issues for the Flames. The 'Hawks have been off since a 5-4 loss in Toronto on Saturday. That dropped them to 10-15-and-2 on the season.
Guerin Named GM Of US Olympic Hockey Team
USA Hockey has promoted Minnesota Wild general manager Bill Guerin to take over as general manager of the men's Olympic team. He takes over two months after Stan Bowman's resignation in the wake of the Chicago Blackhawks' sexual assault scandal. New York Rangers general manger Chris Drury was named assistant GM. Meanwhile, some NHL players say they are unsettled by word that a positive COVID-19 test during the Winter Olympics in China could lead to a long quarantine. The International Olympic Committee has said an athlete who tests positive in China will need to produce two negative results 24 hours apart. If they're unable to do so, the quarantine period could last from three to five weeks. The NHL has until January 10 to pull out of the Olympics without financial penalty if COVID-19 causes enough of a disruption to its season.
NFL
Browns Facing COVID-19 Outbreak
For the second straight season, the Browns are dealing with a major COVID-19 outbreak during their playoff push. Cleveland's postseason hopes were rocked when the team placed eight players on the reserve/COVID-19 list. The eight include top wide receiver Jarvis Landry, tight end Austin Hooper and starting offensive linemen Wyatt Teller and Jedrick Wills Jr. Those players will all likely miss Saturday's crucial game against the Las Vegas Raiders.
Rams, Chiefs Have COVID-19 Issues
Kansas City's two-time Pro Bowl defensive tackle Chris Jones was placed in the COVID-19 protocol, one day after wide receiver Josh Gordon was added to the list. Chiefs coach Andy Reid wasn't sure whether either player will be available when the AFC West leaders visit the Chargers on Thursday night. Rams receiver Odell Beckham Jr. and six of his teammates went on the reserve/COVID-19 list Tuesday. Defensive backs Terrell Burgess and Juju Hughes, tight end Brycen Hopkins, tackle Alaric Jackson and injured nose tackle Sebastian Joseph-Day also went on the list. The Rams activated tight end Tyler Higbee from the list.
High school basketball
Boys
Last night
Cassopolis 72, Decatur 53
Centreville 75, Bangor 21
Comstock 56, Hartford 42
Edwardsburg 71, Paw Paw 27
Fennville 57, Coloma 41
Galesburg-Augusta 72, Parchment 26
Gobles 60, Saugatuck 49
Kalamazoo Central 50, St. Joseph 49
Kalamazoo Loy Norrix 66, Mattawan 65
Lake Michigan Catholic 46, Covert 36
Mishawaka, Ind. 80, Niles Brandywine 42
Otsego 65, Niles 46
Plainwell 40, Dowagiac Union 37
Sturgis 65, Allegan 52
Three Rivers 61, Vicksburg 47
POSTPONEMENTS AND CANCELLATIONS
Kalamazoo Hackett vs. Kalamazoo Christian, ppd.
New Buffalo vs. River Valley, ccd.
Michigan Lutheran vs. South Haven, ccd.
Girls
Last night
Battle Creek Central 28, Lakeshore 24
Battle Creek Lakeview 56, Portage Northern 18
Buchanan 39, Bridgman 35
Cassopolis 59, Decatur 31
Coloma 37, Fennville 14
Edwardsburg 72, Paw Paw 30
Galesburg Augusta 41, Parchment 9
Gobles 55, Saugatuck 47
Hartford 49, Comstock 35
Kalamazoo Central 76, St. Joseph 73 (2 OT)
Martin 40, Lawton 22
River Valley 62, New Buffalo 12
Plainwell 52, Dowagiac 23
Otsego 46, Niles 37
Sturgis 45, Allegan 25
Vicksburg 55, Three Rivers 37
POSTPONEMENTS AND CANCELLATIONS
Kalamazoo Hackett vs. Kalamazoo Christian, ppd.
Mattawan @ Loy Norrix
Podcast: Play in new window | Download (Duration: 1:29 — 1.4MB) | Embed
Subscribe: Apple Podcasts | Spotify | Stitcher | Email | RSS | More