WNY chosen as finalist in bid for federal tech hub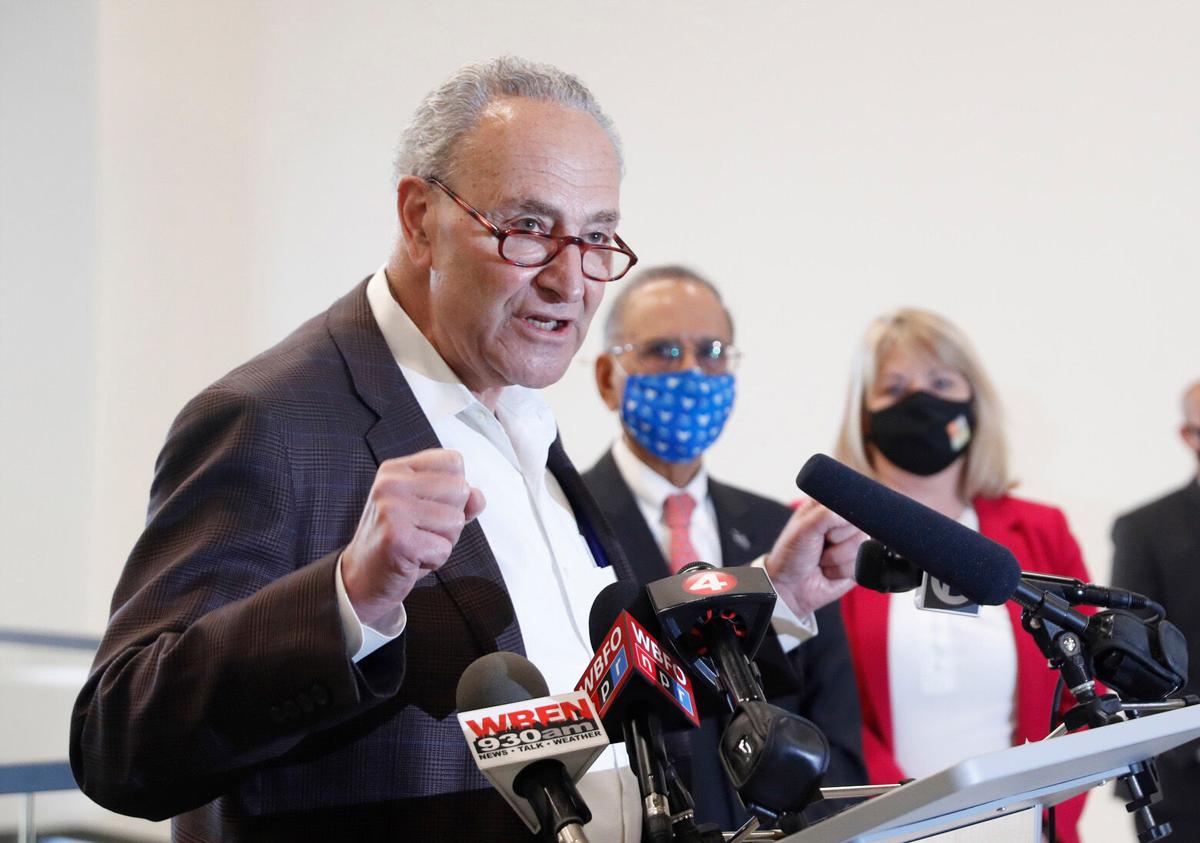 Western New York could be in line for as much as $100 million in federal funds to train workers and otherwise prepare for becoming a national hub for high-tech manufacturing.
That's because a proposal called the Western New York Advanced Manufacturing Cluster was selected as a finalist for the Biden administration's "Build Back Better Challenge," an effort to deliver massive infusions of federal stimulus money to bolster local economies across the country.
The Commerce Department's Economic Development Administration was set to announce the 60 finalists – out of 529 applications – Monday morning. Twenty to 30 of those finalists will be chosen next year to receive upwards of $100 million each.
Senate Majority Leader Charles E. Schumer, a New York Democrat who lobbied Commerce Secretary Gina Raimondo to include the Western New York proposal as a finalist, announced that the local proposal was in the running for the huge infusion of federal stimulus money.
"This is going to be great news for Western New York," Schumer said in an interview Sunday. "It's a giant step forward into making us one of the tech hubs."
The region isn't quite there yet, though. Sunday's announcement merely makes the region a finalist in the competition for a Build Back Better grant of between $25 million and $100 million.
"I called the (Commerce) secretary already and said we had to have this Western New York hub," Schumer said. "And I'm going to call her once they file their plans and say: 'This has got to be one of the highest-dollar ones.'"
Merely being selected as a finalist, though, provides the region with $500,000 in technical assistance funds to prepare its application for that much larger award.
That application is due March 15, Schumer's office said. The final award winners of the federal grant will be announced later in the spring.
Submitted by the five-county Western New York Regional Economic Development Council, the proposal calls for a federally-funded advanced manufacturing cluster that would: 
• Train more than 1,600 Western New Yorkers for tech careers over three years, part of a larger effort to create a more diverse and skilled workforce for growing tech employers.
• Prepare the region to potentially become a national hub in industries such as vaccine production, utility infrastructure, industrial gases and precision motion control.
• Clean up and redevelop properties on Buffalo's East Side so they could be used as manufacturing sites.
If funded, the local tech cluster could "revolutionize the region's manufacturing sector, revitalize Buffalo's East Side and train the next generation for good paying jobs," Schumer said.
Not to be confused with the $2 trillion social spending bill also called "Build Back Better" that's yet to pass the Senate, the Build Back Better Challenge is part of the $1.9 trillion American Rescue Plan that Congress passed in the spring to help the nation recover from the economic ravages of the Covid-19 pandemic.
The Build Back Better Challenge aims to divide $1 billion among 20 to 30 communities nationwide to rebuild their economies so they'll be more resilient amid future economic disruptions.
In a letter to the commerce secretary, Schumer noted that the Western New York Regional Economic Development Council came together a decade ago and already has worked to improve the region's workforce and otherwise prepare the region to be a location for advanced manufacturing.
Local institutions backing the council's proposal for the federally-funded advanced manufacturing cluster include the University at Buffalo, Buffalo Niagara Partnership, Invest Buffalo Niagara, Launch NY, Buffalo Manufacturing Works, Northland Workforce Training Center, Goodwill of Western New York, SUNY Alfred and the Buffalo Urban Development Corp.
"I'm talking about a vision that could dramatically change the whole waterfront environment over the next 24 months to three years," Rep. Brian Higgins said.
While the proposed Western New York advanced manufacturing effort got a huge boost with its selection as a Build Back Better Challenge finalist, another proposal that could have aided the region did not make the cut.
That proposal – the Upstate New York Optoelectronics Cluster – aimed to bolster that industry across upstate. No information was available regarding why the Commerce Department did not name that effort as a finalist.
But Schumer said he's excited that the Western New York proposal was selected.
"I'm going to use my clout as majority leader and the influence I have, as someone who helped create these dollars in this program, to make sure that we get to the next phase, which is huge," he said.
The smart way to start your day. We sift through all the news to give you a concise, informative look at the top headlines and must-read stories every weekday.