Wellness tourism is undoubtedly big business in 2022 and beyond. For decades, modern enterprise has overshadowed wellness and made it far more difficult to maintain a healthy lifestyle. Longer working hours and the innate stress of modern living has led to a rise in depression and anxiety, while billion dollar industries capitalising on cravings and comfort have contributed to an increase in chronic diseases. Then the pandemic came around, and suddenly people started to reassess how they live, and realised more must be done to lead a healthier life.
Which leads us on to this feature; wellness tourism has seen an increase in demand over the last few years, and hotels are right there to capitalise on the desrires of those potential guests. Hospitality establishments can act as sanctuaries, providing guests a space that is free of interruptions and distractions as they look to become better versions of themselves.
According to the Global Wellness Institute (GWI), the global wellness economy was valued at US$4.5 trillion in 2018, with wellness tourism making up $639.4 billion of that. It's an immense business, and one many hotels have tapped into successfully. Asia and Europe especially, where wellness real estate in 2017 was worth $47 billion and $32 billion in each continent respectively according to GWI.
The MENA region, meanwhile, had a wellness real estate value of $5.5 billion. Certainly, this region has its fair share of jaw-dropping wellness spaces. One only needs to go to Palm Jumeirah to see some of the most lavish spas in all of the world. But is this really wellness? If the goal is to make people a better version of themselves, then a 60-minute massage isn't going to change much in the long-term. True wellness is about enacting change in someone's life, which is what we explore over the next few pages, as we speak to some of the region's leading wellness destinations and their approaches to making sure guests leave better than they came.
Wellness rooted in traditions
So why is it that Asia and Europe command such greater market share? In an article published for HVS in 2020, Mia A. Mackman, managing director of Spa & Wellness Consulting in Phoenix suggested that these destinations have a greater sense of wellness embedded into their culture and heritage, whereas more modern destinations use it as a crutch to bolster their luxurious images.
She wrote: "There are core differences in the global market of spa-and-wellness properties and programmes. Many Asian and European countries have deep historical traditions and longstanding cultural values related to the importance of well-being and spa experiences. The depth and duration of these ideals often foster more inclusive guest experiences, facility use, and engagement.
"The differences among these markets can be traced back to their adoption of modern-day ideals; whereas, some parts of the world have added spa services to complement a pre-existing cultural foundation of well-being, others have created programs targeting well-being atop aesthetic and beauty services to satisfy emerging new demand."
Game-changers in the region
There is one resort in the Middle East looking to change that. As the region's largest dedicated wellness resort – Zulal Wellness Resort in Qatar – looks to show the world the Middle East can be every bit as good as Europe and Asia.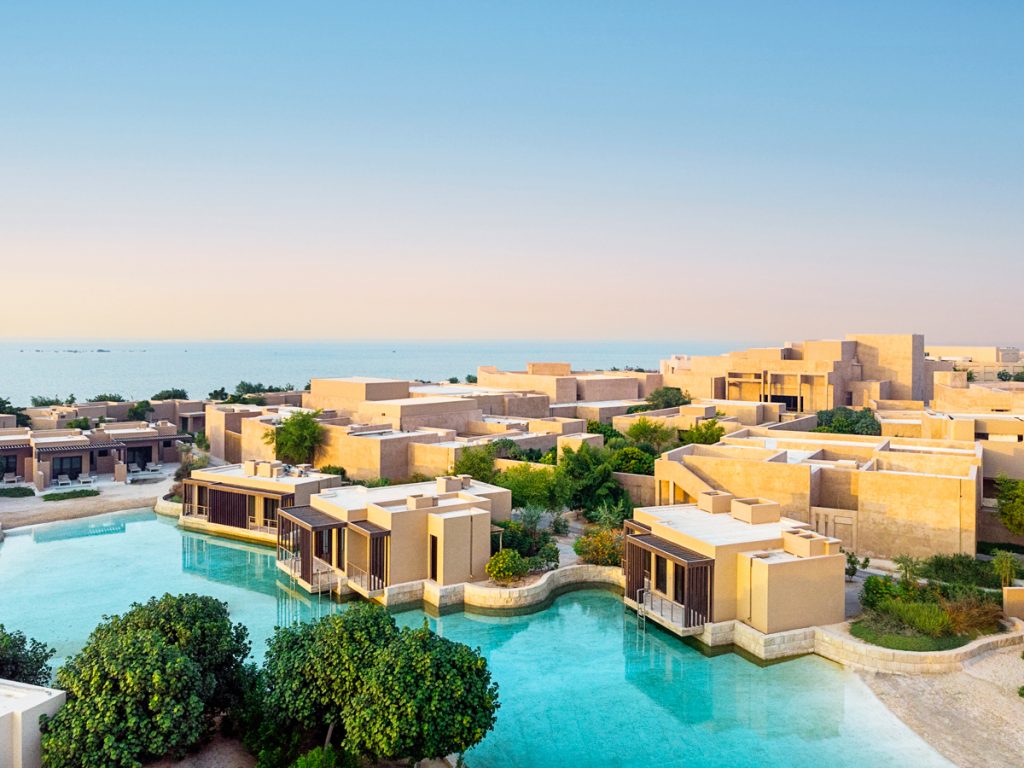 The destination's director of health and wellness Sandie Johannesse said: "In the Gulf and in Qatar, people would usually travel out to Europe, America or Sri Lanka and Thailand to experience wellness. Now our resort is in their very own country, and Zulal is the same top quality as those destinations.
"We would like to show that the Middle East is a forerunner in wellness now. Some of the top wellness developments are right here and we can reach the same level as what has been seen across Europe, the US and Asia. "This is the new wellness destination of the world."
The resort is split into two parts: Zulal Serenity is designed exclusively for adults, while Zulal Discovery invites families to embark on a wellness-focused journey together.
Zulal Serenity features more than 60 adults-only rooms and suites, with guests encouraged to embark on journeys of self-reflection and self-improvement.
Zulal Discovery houses over 120 rooms and suites, purposefully designed with families in mind. Tailor-made programmes and dedicated facilities such as a spa lagoon for mind relaxation and a family outdoor swimming pool encourage families to embrace a healthier lifestyle together.
Johannesse added: "Our goal is not just to improve wellness for two or three days, it's about equipping people and educating people to stay on a healthier path in life."
More than just a massage bed
For Zulal, the approach to wellness is multi-faceted. Physical wellness is just one part of the journey, with mental and emotional wellness also of paramount importance.
Johannesse explained: "Since the pandemic, people really need to reconnect with themselves and with their loved ones. There's a whole shift in attitude for holidaymaking. For wellness, resorts have been able to reposition their retreat packages to meet this surge in demand for reconnection. Guests are embarking on personal journeys through hospitality now. Hospitality can now help people achieve their personal goals following the pandemic. Especially after Covid, the customer journey is much more about connection. Gone are the days where people want just a regular massage or facial therapy.
"A lot of the key demands now centre on mental health. A lot of people have been in isolation. The GCC, especially, has so many expats, so a lot of people are alone from their family abroad. There's a lot more demand for bonding and we're here to help with that. The market is ready. Everybody is trying to rebuild their mental and physical health."
If the Middle East looks to become a leading wellness location, it must move away from just alleviating physical issues and address mental and emotional demands also. Another resort doing just that can be found in Dubai.
The Retreat Palm Dubai MGallery by Sofitel's director of wellbeing Sumesh Gopal, explained: "Especially after the pandemic, billions of people around the world have anxiety and uncertainty. Physical illnesses are easy to treat and there's no stigma around that, there is for emotional wellbeing. People suffer in silence. So the emotional wellness retreat is specifically designed to help guests with that. It has both medical protocols and holistic protocols.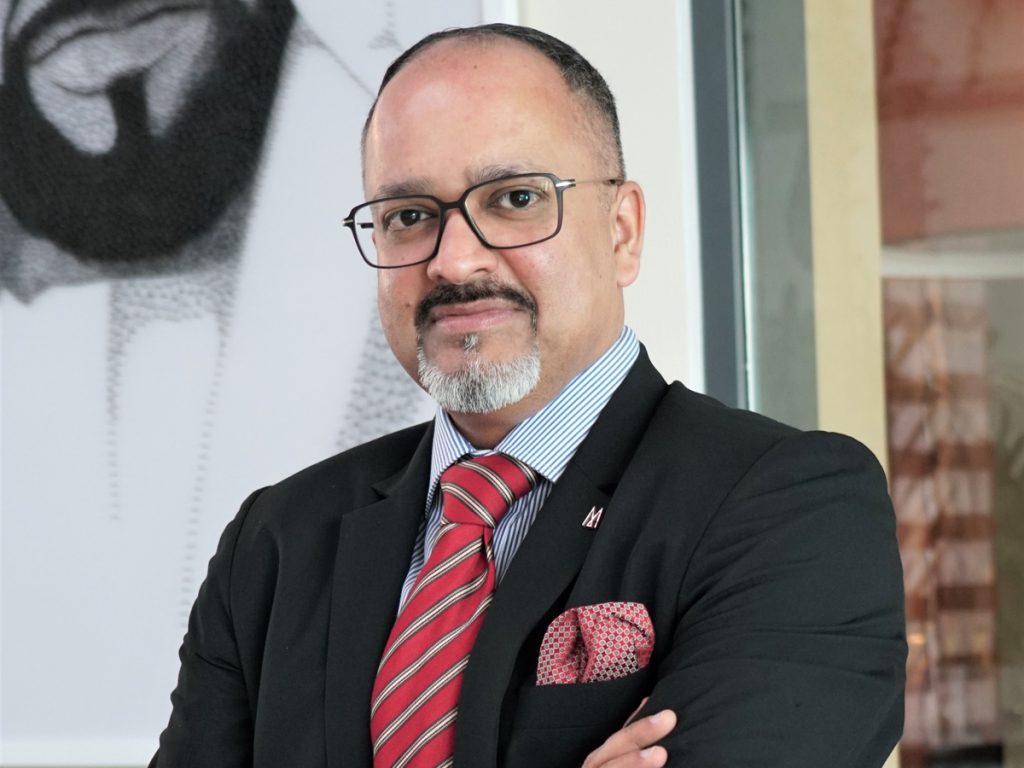 "We have one of the wold's best in the field doctors. He has his own emotional wellness clinic in the UK and now he is bringing an emotional health and rehab clinic here under Dubai Health Authority's approval."
The Palm Jumeirah property has 255 rooms and suites, as well as four dining options that serve healthy cuisine. It also has the world's first Rayya Wellness Centre, offering a variety of all-inclusive retreat packages. The wellbeing resort also features a dedicated Rayya Fitness Centre, Rayya Spa and Rayya Kids Club.
The wellness retreat packages include pre-arrival consultation with a lead coach and a pre-arrival detox nutrition assessment for a personalised menu during the stay. These retreats cover detox and cleanse, spa and wellness, emotional wellness, weight management, fitness and yoga and mindfulness. The emotional wellness retreat experience – known as Revive – includes talks with licensed professionals; a personalised meal plan; daily educational talks; oxygen therapy; and more recently, access to services from a top UK psychiatric professional.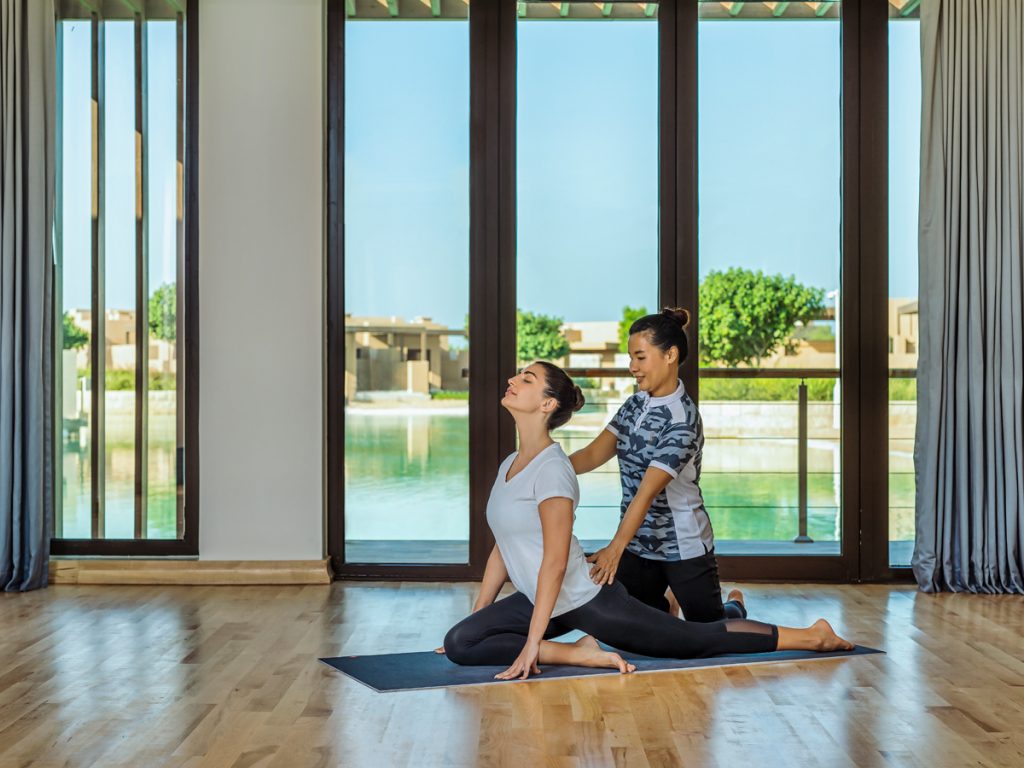 Gopal continued: "We combine our treatments in a very safe and non-judgemental space. We are strongly aligned with the UAE National Wellbeing Strategy. What that means is that we instil purpose in people; promote physical, mental and emotional wellbeing; improve relationships, and help people connect with themselves.
"We create community engagement activities, we hold talks with our couches, we have group sessions, it's all about spreading the message of wellness. Even non-retreat guests have a right to this."
More city properties are diversifying their wellness offerings beyond just the usual spa treatment. The Ritz-Carlton DIFC, for example, is starting to offer more holistic services.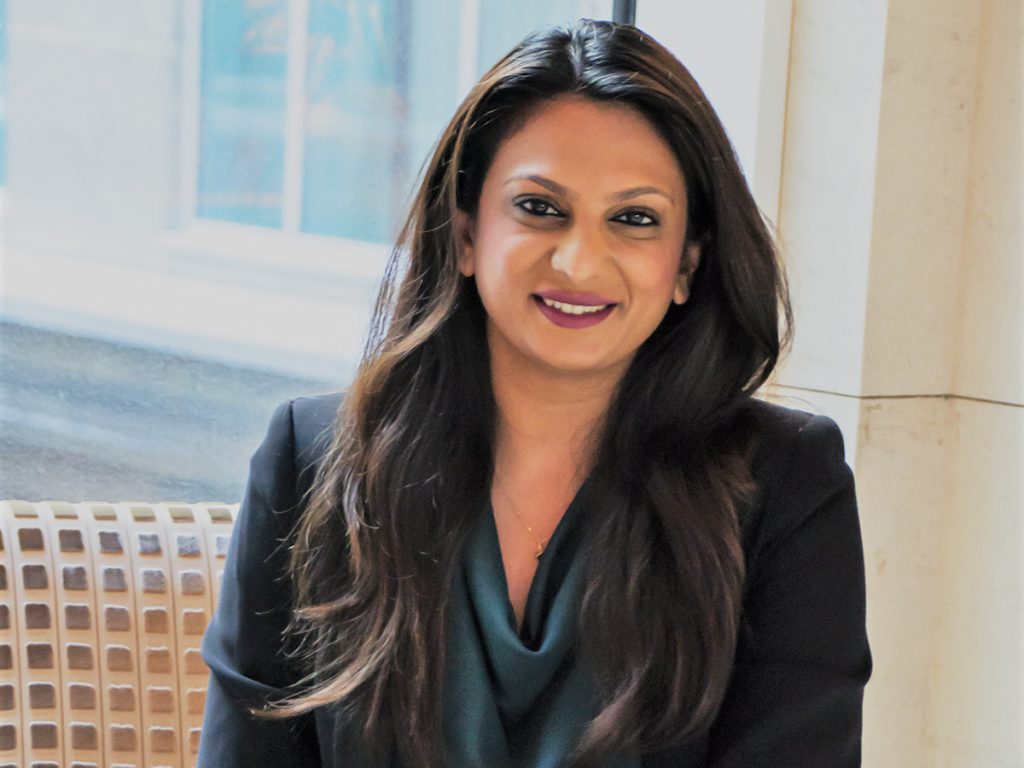 Zakia Kazi, the hotel's associate director of marketing and PR explained: "This year has been deemed as the year of wellness and self-care. At The Ritz-Carlton DIFC we are guided by our vision to inspire life's most meaningful journeys and thus we believe that catering to our evolving guests' requirements and expectations by providing them holistic therapies will enhance their wellbeing. It is important to cater to all of our guests requirements as we have seen the axis shift to wellness in the recent years. By providing genuine care through holistic therapies we hope to create exceptional experiences for The Ritz-Carlton guest.
Promoting a social wellness
To shift focus to a different form of wellness, we head to Bear Grylls Explorers' Camp in Ras Al Khaimah which looks to promote social wellness through a detachment from the busy modern world.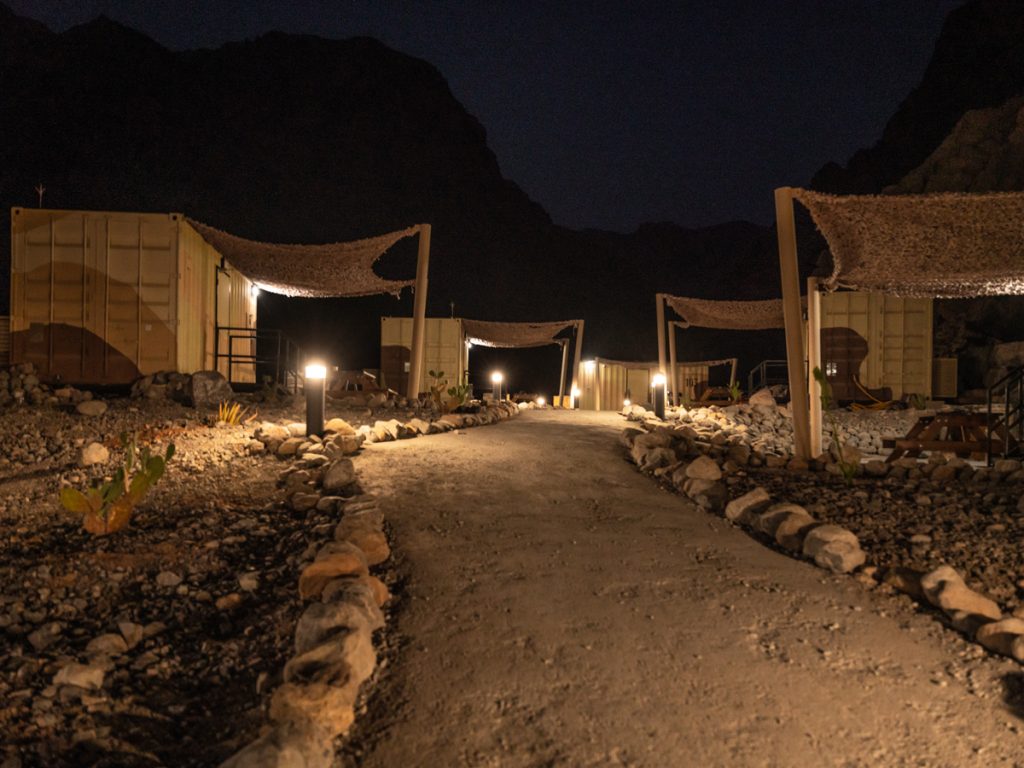 Phillip Durrell, director of adventure activities of the camp's operator RAK Leisure, said: "We always try to get across that we're not a hotel. There's no room service or Wi-Fi or plasma TVs. One of the biggest draws is that we bring groups away from busy hectic life where we have screens in our face all the time. It's all about taking a step back, relaxing, slowing down the pace and enjoying being outside. We're all about the 'low tech' offerings I guess you could say.
"The cabins we have are really basic but they're really comfortable. They have communal fire pits so groups can come, be socially distant, but able to relax and be with other people. I always like to say we're not a five-star hotel, we're a hotel of a million stars – there's no light pollution where we are so you can see all the stars in the sky.
"It's a chance for some internal reflection. We bring together a lot of small groups to reflect and it's a great thing. The experience of spending time with family and friends is so important."
A more flexible approach
The aforementioned properties are all leading the charge for wellness in the Middle East in their own way. But according to one top spa resort in Dubai, wellness shouldn't be an all-encompassing experience that defines an entire hotel stay, it should be far more flexible. That is according to James Hewitson, general manager for Anantara The Palm Dubai Resort.
A hotel brand with its roots in Thailand, the hotel could certainly tap into the wellness heritage of its homeland if it wanted to. It does to an extent, but Hewitson doesn't want to go so far as to make guests feel pressured. He explained: "Anantara has a long history with wellness and we've been developing wellness in our resorts for years. What we've seen is that dedicated wellness resorts are all well and good, but the consumer today doesn't want to surround themselves with this environment 24/7.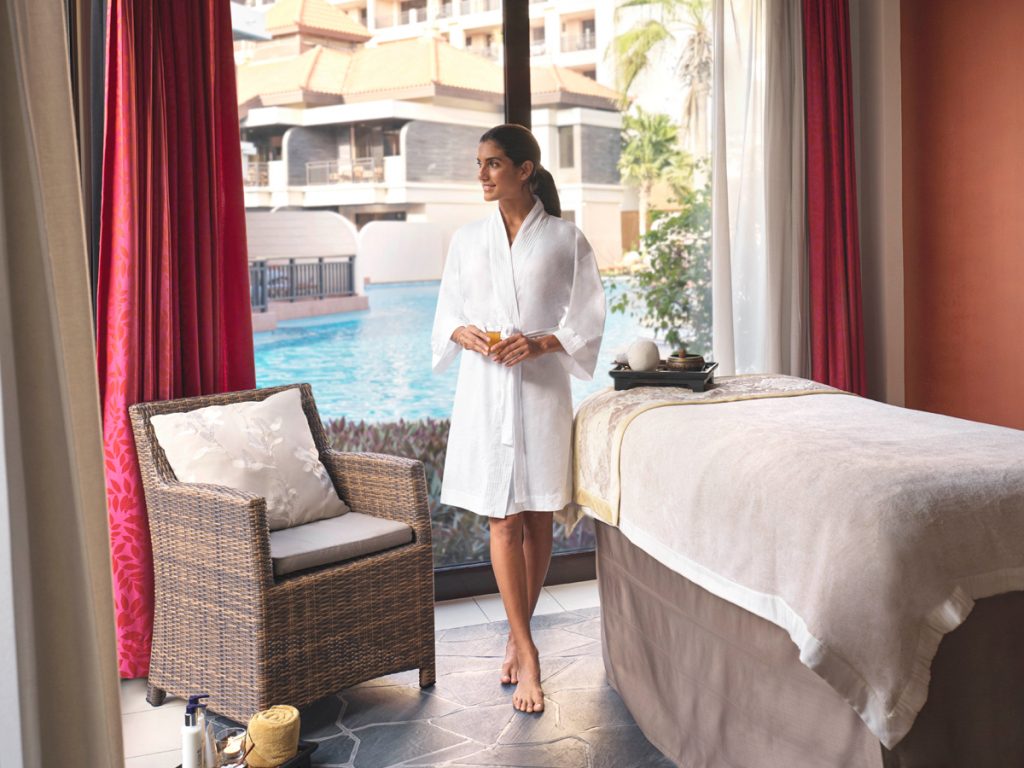 "Particularly in Dubai, there's not a huge demand for someone to do a seven-day detox retreat in our property. What they like to be able to do is dip in and out of wellness. These days, there's far too much distraction around to actually do a detox, so the demand now is having a combination of treatments throughout a stay."
He urged: "Certainly we have a range of treatments and experiences that improve wellbeing, but guests don't want the rigidity of a retreat package let's say. They want wellness, but only parts of it, and they want to be able to choose. There's no reason people can't enjoy wellness while also having a glass of wine at night and not being so strict with what they eat and enjoy on holiday."
An evolving industry
Wellness tourism might not be embedded into the culture in the region like elsewhere in the world, but there is a hunger to innovate. Properties such as Zulal are leading the charge, looking to put the Middle East at the forefront of wellness. The Retreat is calling out for a greater appreciation for mental health, the Bear Grylls' camp wants people to find wellness through themselves, while Anantara wants to show people wellness doesn't mean you have to make too many sacrifices. There's many different ways in, and this region is starting to open its eyes to that.