VHSL STATE FOOTBALL SEMIFINALS: Abingdon visits LCA in Class 3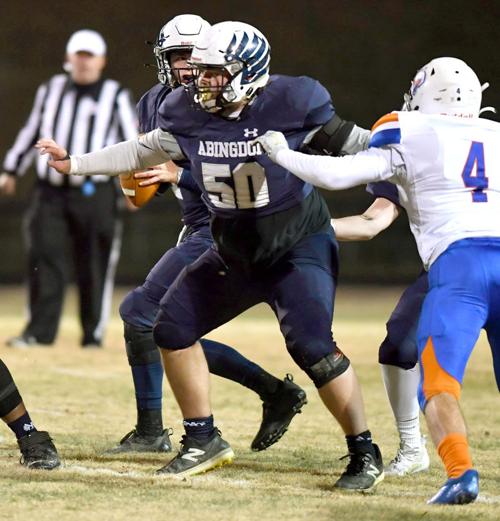 ABINGDON, Va. – It has been an emotional ritual in the Abingdon High School football program since Sept. 2.
During Thursday afternoon practices before home games, a lineman is selected to wear the number 76 jersey amid a chorus of cheers.
That was the number of former AHS Falcon football player and beloved assistant coach Robb Ratcliff, who died on Aug. 30.
"It's a special time," Abingdon head coach Garrett Amburgey said. "When our guys wear that number, they play with pride. That's for sure."
Before last Friday's Region 3D championship against Lord Botetourt, the AHS coaching staff picked senior Charlie Sturgill to don Ratcliff's former number for the second time. Ratcliff, 42, starred as a lineman for the Falcons and had directed the AHS offensive line since 2012.
"It was a huge honor," Sturgill said. "We were preparing for the biggest games of our lives. I knew that I had to play strong for Coach Ratcliff."
With the 6-foot-2, 250-pound Sturgill providing blocks at left tackle and key stops at defensive end, the Falcons earned a 28-14 victory and their first regional title since 1979.
Like many of his teammates, Sturgill struck up a friendship with Ratcliff from a young age and gradually formed a tighter bond.
"Both of my brothers (Jake and Roby) played football for Abingdon when Coach Ratcliff was on the staff," Sturgill said. "I was always around the program and the coaches growing up, and Coach Ratcliff and I became best friends."
A memorial service for Ratcliff was held at Falcon Stadium.
"That was hard," Sturgill said. "Coach Ratcliff was a fun guy who made an impact on our entire team. It was awful to see him go but we will never forget him."
Sturgill hopes the Falcons sent a message with the victory over a Lord Botetourt squad that had advanced to the past two Class 3 title games with a physical brand of football
"People have classified Abingdon as the wine and cheese type," Sturgill said. "We wanted to change that, and I feel like we have. I don't really listen to the labels because I know the type of physicality we compete with."
As a youth, Sturgill developed an appreciation for hard-nosed football during backyard games with his brother Jake and assorted friends. Jake Sturgill guided AHS to the 2015 3A West semifinals with his accuracy and wise game management at quarterback.
"Jake taught me a lot," Sturgill said. "He was always calling out pass coverages, and I would have to tell him that I was just a lineman. Jake and I love each other, but those backyard battles were serious business."
Sturgill was named as the top offensive lineman in the Mountain 7 District this past spring.
Jake Sturgill currently works at Vanderbilt University as a researcher and plans to enroll in medical school next year.
"Jake is a genius," Charlie Sturgill said. "He's helped me so much in life, with football and everything else. I've never seen Jake get nervous. I guess that's why he's training to be a doctor."
Charlie gained an extra dose of motivation last week when Jake returned to Falcon Stadium to watch his old team.
What sort of advice did Jake give his younger brother for today's Class 3 semifinal game at Liberty Christian Academy?
"He just told me to approach it as a normal game," Sturgill said. "If you play your best, you will get the best."
When it comes to effort and emotion, Amburgey never has to worry about Charlie Sturgill.
"Charlie is a little looser than Jake, but he gets the job done," Amburgey said. "He can move for a big guy and he's physical."
According to Amburgey, there is one big similarity between Jake and Charlie
"They are both brilliant," Amburgey said. "Jake was a very serious player who could read defenses. Charlie has that same type of football savvy as a lineman."
Sturgill is the lone senior starter on an AHS offensive line that did not allow a sack against the aggressive Lord Botetourt defense last week.
"That was an awesome feeling, especially going against those great athletes that Botetourt always has in the defensive line," Sturgill said. "Our offensive line coach [Chase Nunley] deserves a lot of credit for preparing us each week."
Other leaders on the AHS offensive line include juniors Dasean Lucas (6-1, 290) and Kadin Hounshell (6-0, 290).
"Dasean and Kadin are just monsters," Sturgill said. "Since I've been in the program longer, I know a little more and I try to be a leader by hyping everybody up.
"We know that that Liberty Christian is a great program with many athletes. But we've got heart and family."
Amburgey was delighted with how Sturgill paid tribute last week to a former member of the Falcon family.
"We decided to bring the number 76 back to honor the legacy of Coach Ratcliff," Amburgey said. "Coach always talked about playing physical and tough, and he helped instill that approach in our linemen.
"I know putting on that jersey was special for Charlie last week. And he played great."
Sturgill is eager to add another chapter to the Ratcliff legacy today in Lynchburg.
"When you wear that number 76, there is something extra inside you," Sturgill said. "That feeling will always be with me."
Get local news delivered to your inbox!