Variety of headlines fill the first half of 2021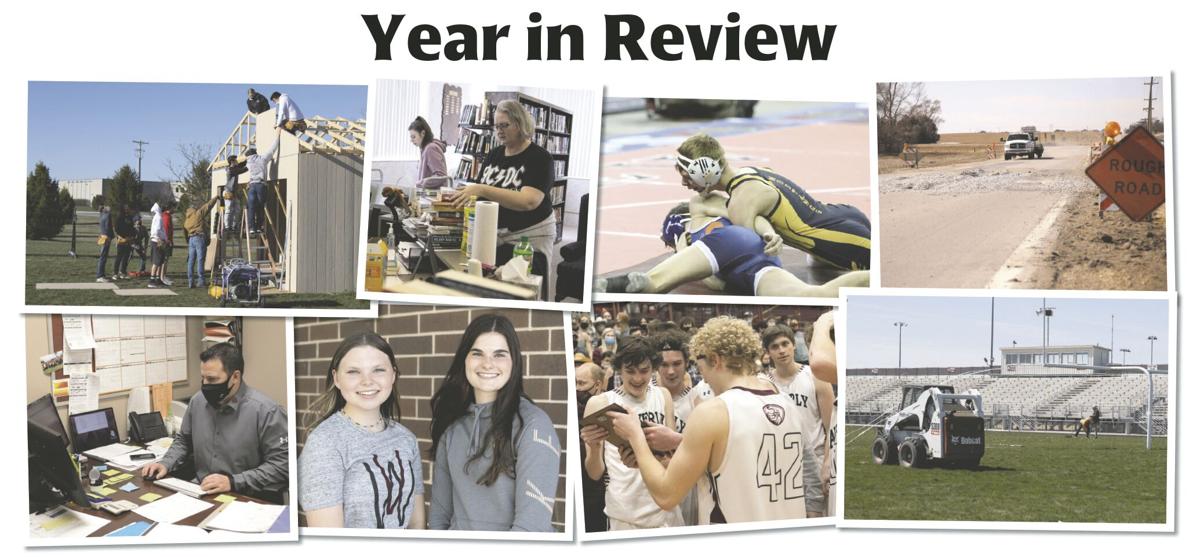 From Staff Reports
WAVERLY – The year 2021 is almost in the books and it is time again to take a look back at the stories that made "The News."
January
Family Medicine and Urgent Care of Waverly changed its name to Family Practice of Waverly and joined Bryan Physician Network on Jan. 4. The clinic remains in its current location at 13851 Guildford St., Suite D, Waverly.
The Waverly wrestling team hosted the Eastern Midland Conference Wrestling meet at Waverly High School. The Vikings were able to finish third at the meet.
Waverly High School Assistant Principal and Activities Director Brad McMillan was named the Assistant Principal of the Year for the state of Nebraska during the virtual 2020 Nebraska State Principals Conference held by the Nebraska Council of School Administrators.
The Raymond Central Mustangs returned to action after nearly two weeks on the sideline with their most impressive win of the year.The Mustangs scored a season-high 71 points while getting past the David City Scouts on the road on Jan. 12.
Bill Danenhauer was named Sideline Power Employee of the Year. Danenhauer is one of those guys who puts everything he has into everything he does.
Waverly Fire and Rescue department is getting a new call system. The previous call system the Waverly Fire and Rescue Department used has been around as long as Fire Chief Jared Rains can remember. Rains said this system allows the department to apprehend more of the bigger picture. The new system will cost $2,000 for training and setup with an annual fee of $4,500.
The fourth-ranked Waverly boys basketball team lost for just the second time all season when they dropped a 49-37 decision at home against rival Elkhorn on Jan. 28 in the Eastern Midland Conference semifinals.
Winning games in the Eastern Midlands Conference is tough, just ask Waverly Girls Basketball Coach John Cockerill.The Vikings opened conference tournament play with a game on the road against the Bennington Badgers on Jan. 27. Waverly struggled to score in the first half, fell behind 20-4 after two quarters and was defeated 44-26.
The Raymond Central boys basketball team was downed 70-47 by a hot-shooting Conestoga Cougar team in the opening round of the Capitol Conference Tournament played at Conestoga High School on Jan. 23.
The Raymond Central girls basketball team opened Capitol Conference Tournament play against Fort Calhoun at home on Jan. 23. The Mustangs trailed the entire game and despite a valiant fourth quarter rally were defeated at home by the Pioneers 37-33.
February
The District 145 School Board of Education held a hearing during the school board meeting on Feb. 1 for a grievance filed by bus driver Rick Haas on Dec. 1. Haas was hired by the district at the end of July 2020. During his interview with Transportation Director Deb Hennessy, Haas said that he left with the understanding that the pay would be competitive to other area. The school board denied Haas's grievance on the grounds that this is a wage negotiation that needs to happen between the school board and the Waverly Transportation Association. All members voted yes, but Claycomb.
Eleven Raymond Central wrestlers advanced into the next round of the postseason after an impressive showing at home on Feb. 6 while competing in the Class C-3 sub-district tournament. Four Mustangs left the meet with gold medals including 113-pound freshman Jacob Schultz, senior Mitch Albrecht, junior Logan Bryce and junior Conner Kreikemeier
The Waverly Viking wrestling team had a successful showing at home on Feb. 5 while hosting the Class B-1 sub-district tournament. The Vikings finished third as a team with 172.5 points and advanced 12 wrestlers to the Feb. 13 district tournament in Schuyler. Three Vikings left the meet on Friday with sub-district gold medals including 170-pound senior Evan Canoyer, junior Wyatt Fanning, junior Trevor Brown and freshman Garrison Brehm
No Raymond Central School District students were depicted in the pornographic images allegedly possessed by a former speech and drama teacher, Saunders County Attorney Joe Dobesh said. Jeffrey Nelson is facing nine class 2A felony counts of possession of child pornography and one class 1D felony count of intent to distribute child pornography in Saunders County Court. Nelson was "removed from the classroom several weeks ago" according to school district officials.
Waverly senior Evan Canoyer and junior Trevor Brown combined to finish with a perfect 8-0 record while ending their seasons with gold medals around their necks. Canoyer improved to 42-1 on the season while winning all four of his 170-pound matches at the State Wrestling Championships in Omaha. Brown stood atop the medal stand for the first time of his career after claiming top honors at 285 and pushing Brown's record to 33-1.
Senior Mitch Albrecht and junior Logan Bryce both left with medals from the Nebraska State Wrestling Championships. Albrecht, the school's all-time leader with 175 wins, finished fourth after losing twice to the same wrestler. Junior Logan Bryce added to his state medal count with a fifth-place finish at 132. Bryce was runner-up a season ago. Bryce finished 4-2 in Omaha, ending his junior season with a record of 26-3.
The Waverly City Council approved an 85-page agreement with an engineering company out of Omaha for the Aquatic Center. Lamp Rynearson, the engineering company, will oversee the center's final design as well as construction administration. The contract is for $369,750 plus no more than $6,000 for travel expenses.
When Dr. Kenzie Hyde graduated from WHS in 2014, she began seeing Dr. Chuck Findlay who treated her for various injuries from high school and into collegiate sports. In January, Hyde established her own practice called Hyde Family Chiropractics as an independent contractor and began renting out an office in Findlay's.
In February, Nebraska saw a sudden, stark difference between winter and spring. Throughout most of February, Nebraskans dealt with freezing temperatures and heavy amounts of snowfall. Then, just as quickly as winter started, the sun came out bringing beautiful, spring weather. This swing in temperature has played a role in the disintegration of a small portion of Waverly Road near 112th Street into hand-sized pieces of asphalt on Feb. 25. The emergency project will cost about $400,000 to fix and was not a budgeted item, Dingman said. She also said the project will not be completed for another eight weeks.
Lauren Hartman of Waverly is one of 50 University of Nebraska-Lincoln students selected as a new strengths coach in the College of Business' Clifton Strengths Institute. Hartman is a freshman management major at the university.
March
On Feb. 24, a recall petition was filed against Village of Valparaiso Board of Trustees Member Mike Blazek in the Saunders County Clerk's office. County Clerk and Election Commissioner Patti Lindgren said that Blazek was served on March 9. During a board meeting on March 9, Blazek addressed the recall in process. He said it was in regards to a recent drainage project done on his property.
After being on the Valparaiso Village Board of Trustees for over 20 years, former chairperson Jim Rezac submitted his resignation. Village Clerk Cheryl Rieck informed the village board of Rezac's resignation on March 16 and it was discussed during the special meeting that night. Rezac was chairperson for a number of years after being elected to the village board during the 2000 General Election. The resignation comes after Rezac was almost removed from his appointed position as chairperson of the village board during a meeting on March 9. Blazek made a motion to remove Rezac in light of recent actions he had taken, including walking out of the village board special meeting on Jan. 27 where the village board decided to close the library for the state audit and asking for legal advice from an outside source. The motion to dismiss Rezac did not pass.
Solid defensive play and good goalkeeping allowed the Waverly girls soccer team to move their record to 3-1 on the season. The week started with a 2-1 victory at Waverly High School against the Elkhorn North Timberwolves on March 25.
The Vikings remained at home for a contest with Columbus Lakeview on March 27. Waverly got two first half goals from senior Leah Rasmussen and senior keeper Brooklyn Scherer made them stand up in the 2-0 victory for the home team.
The Waverly boys soccer team finished with a mark of 1-1 after splitting a pair of games with Elkhorn North and Columbus Lakeview.The Vikings were dealt a 4-0 loss on the road against a talented Elkhorn North squad on March 25. North scored three goals in the second half. Waverly got back into the win column on Saturday afternoon in their first home match of the season.
April
Roger Dennis and his family chose Greenwood for the location of their store Yoder's Amish Furniture back in 2003 because of its location and space for growth. Since 2003, the Amish furniture store has already seen one expansion and are currently in the midst of another. Now, a new warehouse is going up which will store the interior furniture, changing the existing warehouse to store outdoor furniture. Yoder's has also added a paved and fenced outdoor furniture lot across the street from the warehouse.
Lila Dee Coleman, 8, of Waverly, was crowned and awarded the state title of Miss Nebraska Superstar in the Princess of America pageant. The event took place in Junction City, Kan. on Feb. 26 and 27. She was the top overall winner in all age divisions for her musical performance of "A Million Dreams" from "The Greatest Showman." She will advance to the National Princess of America Pageant in Branson, Mo. in July.
A 13-year-old girl was robbed at gunpoint of Air Jordan shoes April 12 after meeting an 18-year-old Lincoln man at a park in Waverly to sell them, Lancaster County Sheriff Terry Wagner said. Wagner said deputies contacted Elijah Hergott April 13 and arrested him on suspicion of robbery, terroristic threats and use a weapon to commit a felony. They are continuing to look for the second man, he said.
Lancaster County Sheriff's deputies are investigating a theft afternoon from Tractor Supply in Waverly. Sheriff Terry Wagner said when a clerk confronted a man who walked out of the store with $850 of tools and other items, he pushed her and told her to leave him alone.
Investigators with the Nebraska State Patrol (NSP) have arrested a Valparaiso woman following an investigation related to purchases at the Valparaiso library. The investigation began in February, when the case was referred to NSP by the Nebraska Attorney General's Office. Investigators developed information that Lori Springer, 47, who served as library director for the Village of Valparaiso's public library, had purchased over $1,800 in personal items for her family using the library's Amazon account.
Waverly Middle School eighth grader Elizabeth Funk and Waverly High School freshman Taylor Root will both be competing in the 2021 Interscholastic Equestrian Association (IEA) Nationals June 28 through July 1 in Fort Worth, Texas. Funk, of Waverly, qualified individually after placing first in future intermediate horsemanship during the IEA Region 7 competition on April 18 outside of Manhattan, Kan. Root, of Walton, received first and third place in team competition which went toward the team's overall qualification for nationals in the varsity intermediate reining category.
May
The Waverly boys track and field team appeared in fine form while cruising to the Eastern Midlands Conference Tournament Championship at Norris High School on May 4. Waverly scored 179 team points and defeated second-place finisher Norris by 90 points.
The Waverly boys and girls track and field teams proved to be the class of the Class B-3 District Championships held in Fairbury on May 13. The boys team scored 114 points at the meet and will send 14 athletes to the Nebraska State Track and Field Championships in Omaha. The girls team scored 113 points at the district meet and will send 13 athletes to the state meet in Omaha.
District 145 Foundation's Viking Discovery Program received a $15,000 Summer of Innovation Grant for its summer care program through Beyond School Bells, Nebraska's statewide afterschool network, which will allow kindergarteners through sixth graders the opportunity to learn about a huge aspect of Nebraska – agriculture. The program will be adding six raised garden beds to Hamlow Elementary School and Eagle Elementary School prior to the program's start date on May 24, District 145 Foundation Executive Director Sara Martin said.
On May 21, the school board accepted Raymond Central Superintendent Derrick Joel's letter of resignation upon completion of his contract on June 30 during a special meeting. Joel will begin as superintendent of the Fort Dodge Community Schools District in Fort Dodge, Iowa on July 1.
June
Waverly's Zane Schawang suited up for the North squad in the 63rd annual Nebraska Shrine Bowl game played at Ron and Carol Cope Stadium on the University of Kearney campus on June 5. Schawang was the top playmaker for Head Coach Reed Manstedt and the Vikings during an 8-3 campaign a year ago.He finished his Viking career with 2,498 yards rushing and 28 touchdowns.
On June 10, the Village of Eagle informed residents that the municipality was under a water watch triggered by "water demand in excess of 175,000 gallons per day for three consecutive days." The watch lasted two days.
The Greater Waverly Area Foundation Fund (GWAFF) closed out its 11th year with its annual community supporter meeting on June 13. The meeting was held at Waverly's American Legion Post 9875 and offered free food and beverage during the social hour prior to GWAFF's Fund Advisory Committee (FAC) meeting. At the event, the committee re-appointed two FAC members, Bruce Sedivy and Jenny Pfeiffer, to additional three-year terms and added two members, Emily Wilcox and Justin Yates, making the group a 14-member committee, Pascoe said.
Receive the latest Waverly area updates in your email inbox.