In its monthly Livestock, Dairy, and Poultry Outlook report last week, the USDA's Economic Research Service (ERS) stated that, "Lower-than-expected October pork exports—at about 541 million pounds—prompted a reduction of 30 million pounds to the fourth-quarter export forecast.  The revised forecast is 1.8 billion pounds. Strong October exports to Mexico and other Latin American nations only partially offset weak shipments to Asia.
Data from the Government of Japan indicate that North American pork—exported from the United States, Canada, and Mexico—all lost market share to the European Union (i.e., Spain and Denmark) in October.
ERS noted that, "Total 2021 U.S. exports, incorporating the new fourth-quarter forecast, are expected to be about 7.2 billion pounds, almost 2 percent below shipments in 2020.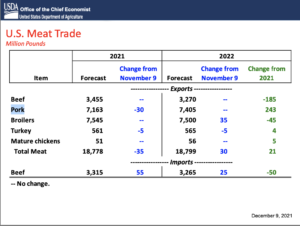 "The listing of the 10 largest export destinations in October in the table below account for a 93-percent share of the month's shipments."
Meanwhile, Reuters News reported last week that,
China will raise import tariffs on most pork products next year, the finance ministry said on Wednesday, after the world's top producer rapidly expanded domestic production and reduced its needs for imports.
"Tariffs for most favoured nations will return to 12% on Jan. 1, from 8% currently, according to a ministry statement.
"China lowered its tariffs on frozen pork in 2020 from 12% to 8% as the country faced soaring domestic meat prices in the aftermath of a devastating disease outbreak."
The Reuters article added that, "The higher rates will further slow imports from top exporters like the United States and Spain that have already dropped sharply in recent months."
Keith Good is the social media manager for the farmdoc project at the University of Illinois. He has previously worked for the USDA's National Agricultural Statistics Service, and compiled the daily FarmPolicy.com News Summary from 2003-2015. He is a graduate of Purdue University (M.S.- Agricultural Economics), and Southern Illinois University School of Law.