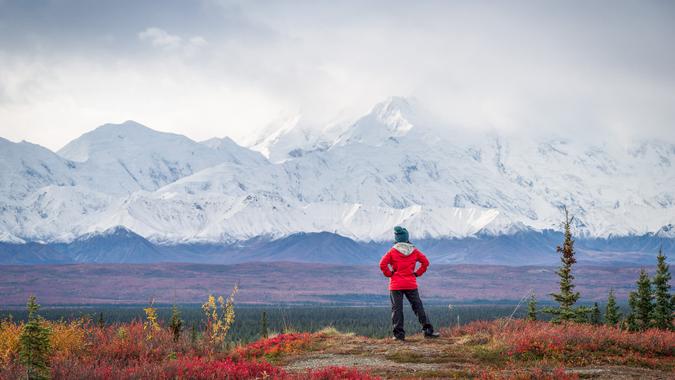 pkujiahe / Getty Images/iStockphoto
After almost two full years of being in a pandemic, it feels like it might finally be okay to plan a winter getaway. According to the Mayo Clinic. 61.1 percent of Americans are fully vaccinated and 72.2 percent have gotten at least one dose of the vaccine. As far as the booster shot, it just recently became available for all adults, and it's estimated 20 percent of Americans have received theirs. However, even with rising vaccination rates, COVID-19 is still a threat. More than 800,000 cases have been reported in the past week in the United States. Here are some places where COVID-19 cases are low and so are the prices, making it a safe and affordable way to get out of town this holiday season. 
More Savings: 6 Holidays Purchases That You Should Only Make at Costco
See: 4 Costco Items That Have Remained Cheap for Years
Deep Creek Lake, Maryland
Maryland currently has 0 active COVID cases, making it one of the safest places to be in the United States right now. Deep Creek is a beautiful place to spend the winter because of its snowy hills and plethora of cozy cabins you can share with your family. You can also get a hotel for under $150 a night and spend the days sledding or tubing at nearby Wisp Resort.
More Savings: 13 Insider Secrets From Travel Agents That Will Save You Money
Yellowstone National Park
The world's first national park is mostly in Wyoming, and extends into parts of Montana and Idaho. Currently, Wyoming is one of the states with the lowest COVID-19 case rate, making it a great time to visit this majestic national park [4]. See the park on a variety of snowshoeing and ski tours by foot, or pick up the pace with a snowmobile or snowcoach tour. Get a 7-day pass for everyone in your car for just $35. 
Freebies: 35 Things Your Hotel Will Give You for Free
Old San Juan, Puerto Rico
Looking for a nice 80 degree day by the beach during the winter? Old San Juan offers beautiful ocean views with a side of breathtaking historic architecture. Visit El Morro Fort to dive into the history of the island, and stick your toes in the sand. It costs only $10 to go to the fort, or it's free on Martin Luther King Jr. Day. Once you pay admission, you can also visit Castillo San Cristóbal for no charge. Castillo San Cristóbal was built as a fortress to guard the city, and is a must-see historical landmark [7]. Puerto Rico has reported well under 1,000 cases of COVID-19 in the past week, making it a relatively safe vacation for the family [4].
Tips: How To Plan a Last-Minute Holiday Vacation With Kids — Without Breaking the Bank
Jackson Hole, Wyoming
Since Wyoming has so few COVID cases in comparison to the rest of the United States, visiting Jackson Hole would be relatively low risk. Jackson Hole is a prime skiing destination, and if you aren't a skier or snowboarder, or want to save some money on a lift ticket, get a sled and hit the hills. Snow is plentiful, averaging about 75 inches between October and April [8]. To sweeten the deal, the resort is offering $300 off airfare per person, or up to $1200 per family when you book by certain date! [9].
Learn: Things You Can Get For Free in Every State
Denali National Park, Alaska
Alaska reported under 1,500 COVID-19 cases in the past week, which is pretty low considering how vast the entire state is [4]. The state is home to Denali National Park, which holds so much natural beauty that is worth seeing, including Mt. McKinley, North America's highest mountain. The peak is 20,320 feet and is truly a sight to behold. Denali itself is six million acres of land, with 2 million being designated wilderness. In addition to winter activities like skiing, snowboarding and snowshoeing, Denali is known for the opportunities to ride on the back of a sled as racing dogs pull you through the wintry landscape. Finally, you can catch the Aurora Borealis if you're lucky enough to be there when it happens. There are plenty of Aurora forecasts to check to make sure you can see the gorgeous Northern Lights. No matter where you are in Denali, you should have a good chance of seeing them. It costs $15 a person to visit Denali National Park, and you can get an annual pass (which covers four adults) for $45 [10]. 
More From GOBankingRates
About the Author
Sam DiSalvo is an LA-based comedian, writer and actor who's performed all over the country. Her written work has appeared in numerous digital publications. As a copywriter, she's worked with a variety of major brands including GoldieBlox and Thrive Causemetics. Sam loves dogs and is currently perusing leisure suits to buy for her corgi mix, Barry