What was supposed to be a vacation in the Dominican Republic, Turkey or Egypt has turned into a nightmare for thousands of Russians and Ukrainians. Many Russian travelers are increasingly struggling with payment issues.
In the Dominican Republic alone, there are currently about 14,800 Russian and almost 3,000 Ukrainian tourists stranded due to travel restrictions imposed after Moscow's invasion of its neighbor.
The Caribbean country has announced it would guarantee them the right to stay in their lodgings "until a conclusive solution is found to their situation in light of the conflict in their countries," according to a statement from the Tourism Ministry. An agreement to that effect had been reached by the government and the Asonahores Hotel and Restaurant Association, as well as hotel representatives, it said.
In addition, a process for the repatriation of tourists to Russia has been agreed with Russian tour operators. According to the main Ukrainian tour operator, the approximately 1,900 visitors will stay in their assigned hotels until a solution is found for their return home.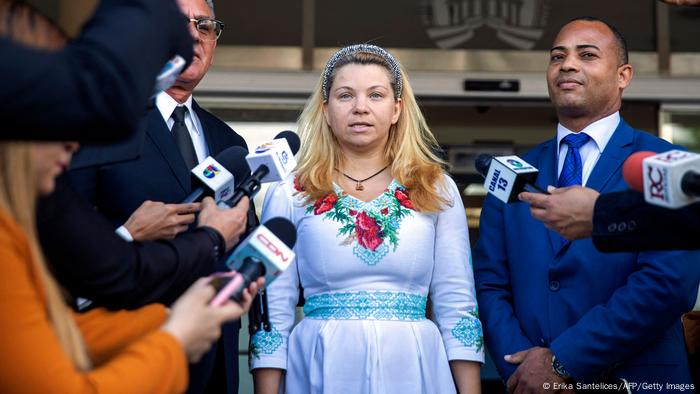 Ilona Oleksandrivna, Ukraine's representative in the Dominican Republic, made an appeal for help on Wednesday
A tearful appeal
Ilona Oleksandrivna, Ukraine's honorary consul to the Dominican Republic, tearfully pleaded with President Luis Abinader at a press conference earlier this week to help stranded Ukrainians. Oleksandrivna said more than 1,200 of her compatriots had been forced to leave their hotels due to lack of money and were now "living on the streets."
An adviser for immigration issues at the Ukrainian consulate said many of those affected could not be helped with travel insurance, as it did not cover them in the event of war.
Tourism Minister David Collado has announced a meeting with representatives of the private sector to ensure that the stranded Ukrainians could remain without encountering further difficulties. "The Dominican state will respond responsibly and with human sensitivity," he said. 
Tourists from Russia and Ukraine account for about 10% of all visitors to the Dominican Republic. In the first two months of this year alone, there were almost 110,000 arrivals.
Egypt offers three-star accommodation
Thousands of tourists have also been stranded in Egypt. According to official estimates, around 20,000 Ukrainians are unable to travel back to their home country.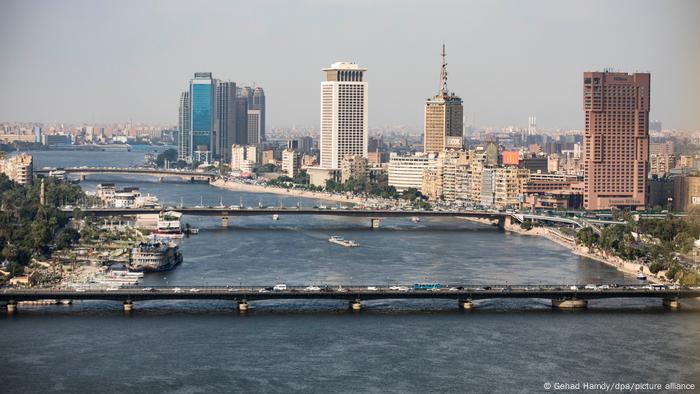 Cairo is one of the many Egyptian destinations popular with both Russian and Ukrainian holidaymakers
According to the online portal mein-aegypten.com, a tourism blog, the Egyptian Tourism Ministry has instructed the managers of three-star hotels to provide stranded Ukrainian tourists with three meals a day and refreshments. A tourism fund will cover the cost of accommodation and meals, the ministry said.
Guests in four- and five-star accommodation, on the other hand, were to decide for themselves whether to stay in their hotels at their own expense or move to the subsidized three-star establishments.
Tourists from Ukraine usually receive a "tourist-on-arrival" visa, which allows them to stay in Egypt for up to 30 days. As the Egyptian Embassy in Berlin told DW, many of the vacationers have not yet exhausted this time. The government has not yet decided on possible extensions beyond this time limit.
Last year, more than 1.4 million people from Ukraine spent their vacations in Egypt. This made them the second-largest group of European tourists in the country on the Nile.
Zanzibar trying to 'help' stranded Ukrainians
Several hundred Ukrainians are also stranded on the island of Zanzibar, which belongs to Tanzania, according to local authorities. The newspaper The East African, based in Nairobi, reported that the "almost 1,000" people were "tourists" who could no longer return to their homeland after the invasion by Russia. Now they are seeking a diplomatic solution. The question is whether they should be sent on to Poland.
According to Zanzibar's tourism minister, Lela Muhamed Mussa, the vacationers are staying in hotels. Some of them were staying free of charge and receiving humanitarian assistance, according to authorities. Hussein Mwinyi, president of the semi-autonomous region, said they were trying to "help" the stranded Ukrainians as best they could. They've also received consular support from the Ukrainian Embassy in Kenya.
Tourists also stuck in Europe
In Europe, Greece and Turkey are among the most popular vacation destinations for people from the two countries currently at war. Last year, Turkey recorded more than 2 million guests from Ukraine and 4.7 million from Russia. The Turkish Embassy in Berlin could not say on Friday how many travelers from the two countries are currently abroad in Turkey.
Sotiris Krystallis, the press attache for the Greek Embassy in Berlin, told DW that only a few tourists from Ukraine are currently in the country, according to the authorities in Athens. However, there are now more than 2,700 Ukrainian refugees who are being helped in Greece. 
By contrast, there are currently about 2,000 Russian visitors in Greece, according to the data. They usually receive a visa that allows them to spend 90 days in Greece within six months. The Greek authorities are working closely with the embassies of both countries to provide the best possible assistance to their respective nationals.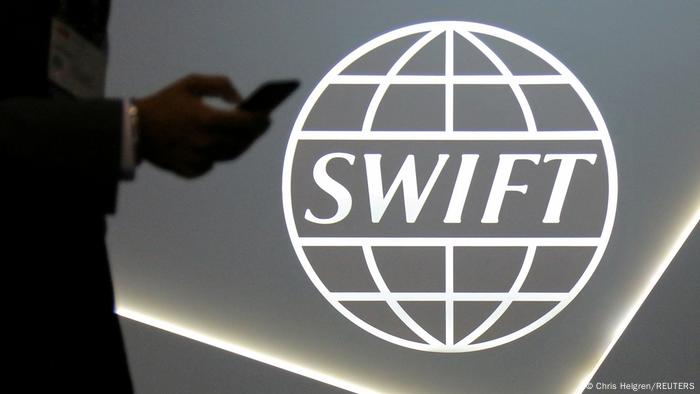 There are increasing reports that credit cards and other means of payment are no longer being accepted from Russians
Problems with payments
Many Russian travelers are increasingly struggling with substantial logistical problems. Increasingly, people have reported on social networks that their credit cards and other means of payment are no longer being accepted after various Russian banks were excluded from the SWIFT system for international payments.
According to the Romanian travel portal AirlinesTravel, payment systems such as Apple Pay and Google Pay have also been affected, as are withdrawals from ATM cash machines. This information comes from both banks and tourists, who have left numerous comments to this effect on social networks.
But these organizational problems are only one side of the story. There's also the fact that they are stranded far from home, and many don't know what their home will look like when they're eventually able to return.
This article was originally published in German
Threatened by war: Ukraine's UNESCO World Heritage Sites

Kyiv: Saint-Sophia Cathedral and related monastic buildings, Kyiv-Pechersk Lavra

This 11th-century Eastern Orthodox church was built to rival the Hagia Sophia, in present-day Istanbul. Its mosaics and frescoes are prized for their impressive condition. The church greatly influenced subsequent temples, and together with the nearby monastic complex known as Kyiv-Pechersk Lavra, or Kyiv Monastery of the Caves, it helped the area become a center of Orthodox faith and thought.

Threatened by war: Ukraine's UNESCO World Heritage Sites

Chernivtsi: Residence of Bukovinian and Dalmatian metropolitans

With its dramatic mixing of styles, including Byzantine, Gothic and Baroque influences, this former residence of the Eastern Orthodox metropolitan bishop expresses the diverse religious and cultural identity of the Austro-Hungarian empire. Built by Czech architect Josef Hlavka from 1864-1882, the giant complex also includes a chapel, seminary and a monastery.

Threatened by war: Ukraine's UNESCO World Heritage Sites

Lviv: Historic city ensemble

Founded in the late Middle Ages, the western city of Lviv was an important center of administration, religion and commerce for centuries. The modern city still bears its medieval hallmarks, including places of worship for various religious communities. It also boasts many Baroque buildings. Its architecture shows how Eastern European influences mixed with ones from Italy and Germany.

Threatened by war: Ukraine's UNESCO World Heritage Sites

Staro-Nekrasovka: Struve Geodetic Arc

The Struve Arc is a chain of survey triangulations spanning more than 2,820 kilometers and 10 countries. Its southernmost point is in the Ukrainian town of Staro-Nekrasovka, on the Black Sea, while its northernmost point is in Hammerfest, Norway (above, in 1895; no photo from Ukraine available). Built from 1816-55, the collaborative structure helped determine Earth's exact shape and size.

Threatened by war: Ukraine's UNESCO World Heritage Sites

Sevastopol: Ancient city of Tauric Chersonese and its chora

The ruins of Tauric Chersonese, a 5th-century BC city founded by the Dorian Greeks, are located outside of Sevastopol, in southwest Crimea, which was illegally annexed by Russia in 2014. The site includes public building complexes, residential neighborhoods and early Christian monuments, well-preserved vineyard parcels and related systems, as well as remnants of Stone and Bronze age structures.

Threatened by war: Ukraine's UNESCO World Heritage Sites

Zakarpattia Oblast: Wooden tserkvas of the Carpathian Region

This UNESCO World Heritage Site is actually a series of 16 "tserkvas," or churches, that are spread out over Poland and Ukraine in the mountainous Carpathian region. The wooden log structures were built between the 16th and 19th centuries by both Orthodox and Greek Catholic communities. They exemplify the timber-building tradition of Slavic countries, and their interiors are also quite renowned.

Threatened by war: Ukraine's UNESCO World Heritage Sites

Zarkarpattia Oblast: Ancient and primeval beech forests of the Carpathians

Also located in western Ukraine is the natural World Heritage Site of ancient and primeval beech forests. The site in its entirety includes 94 areas in 18 countries. This photo is of the Uholka-Shyroki Luh forest, which is part of the world's largest primeval beech forest. Beech started spreading after the last Ice Age, 11,000 years ago, and are now part of pristine, complex ecological systems.

Author: Cristina Burack