1 min ago
Counterattacks underway in Kyiv after shelling of reclaimed territory, says Ukrainian Interior Minister
From CNN's Olga Voitovych and Nathan Hodge in Lviv
Ukrainian forces have started counterattacks in parts of Kyiv while Irpin to the west of the capital has come under shelling, after the Ukrainian government claimed to have retaken the suburb on Monday, a Ukrainian Interior Ministry official said Tuesday. 
Vadym Denysenko, an adviser to the Interior Minister of Ukraine, said in a live television broadcast that Ukrainian forces were counterattacking to the east of the capital. 
"In Kyiv region, after the village of Lukianivka, where there were very fierce battles a few days ago, we liberated Rudnytske village," he said. "That is, we are entrenching. We are beginning to move on to certain counterattacks."
CNN was not immediately able to verify that claim, but Ukrainian media have broadcast images from Lukianivka. 
On Monday, local authorities said the suburb of Irpin, to the west of Kyiv, had been retaken by Ukrainian forces.
"We are entrenching there and clearing the city," Denysenko said. "At night, unfortunately, the shelling took place again. We saw that rocket artillery was being fired. Now we are clarifying the information."
39 min ago
Ukrainian Embassy says meeting has started in Turkey
From CNN's Isil Sariyuce in Istanbul
The meeting in Istanbul between the Ukrainian and Russian delegations has started, says the Ukrainian Embassy in Turkey.
32 min ago
Turkish President says Russia and Ukraine both have "legitimate concerns" ahead of talks
From CNN's Yusuf Gezer and Niamh Kennedy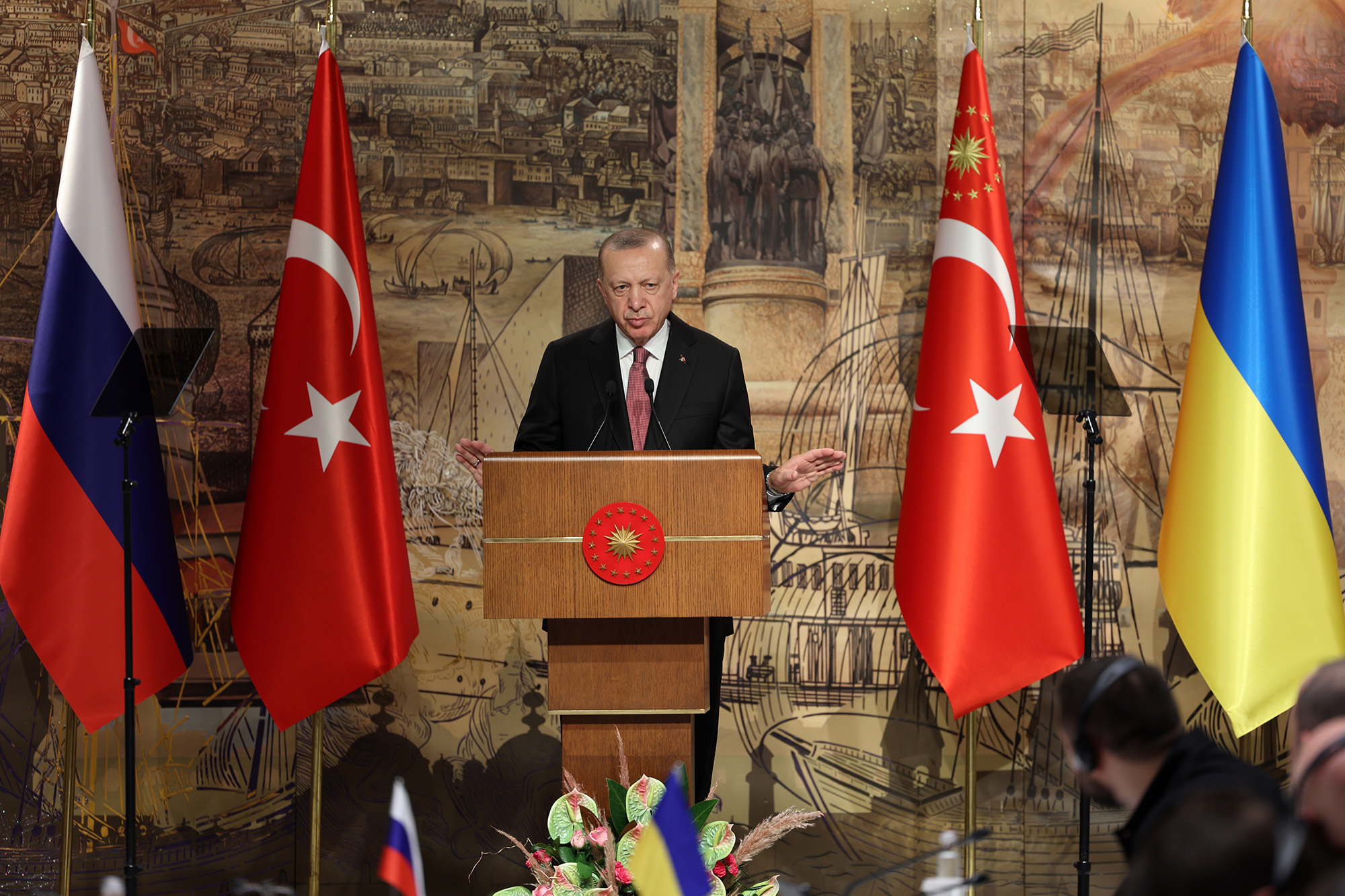 Russia and Ukraine both have "legitimate concerns" heading into the next round of talks in Istanbul on Tuesday, according to Turkish President Recep Tayyip Erdogan. 
Erdogan said it "is possible to reach an agreement that can address both countries' legitimate concerns," in a speech before the meeting between the delegations started.
The Turkish President also passed on his "sincerest greetings" to Russian President Vladimir Putin and Ukrainian President Volodymyr Zelensky, whom he called "valuable friends of mine."
48 min ago
What does Zelensky mean when he talks about neutrality?
From CNN's Nathan Hodge
In an interview Sunday with Russian journalists, Ukrainian President Volodymyr Zelensky spoke at length about an important point in potential peace negotiations: the possibility of neutrality for Ukraine. 
"We are ready to accept this," Zelensky said. "This is the most important point."  
Zelensky and Ukrainian officials have long said they are willing to talk about neutrality for Ukraine if NATO is not ready to accept the country as a member of the alliance. 
That, in theory, would meet one of the demands of Russian President Vladimir Putin: that Ukraine gives up its NATO aspirations. 
But it's not as simple as that. Zelensky has also made it clear that Ukraine would reject "neutrality" without legally binding security guarantees. And with Ukraine under invasion by Russia, the Ukrainian leader has said he isn't interested in empty promises. 
"I'm interested in making sure it's not just another piece of paper a la the Budapest Memorandum," he said. 
Zelensky was referring to a little-remembered moment in post-Cold War history. With the collapse of the USSR, Ukraine – on paper at least – came into possession of the world's third-largest nuclear stockpile.
Russia did maintain operational control of those weapons, but Ukraine signed an agreement in 1994 to give up the nuclear weapons stationed on its territory in exchange for security guarantees, including the protection of the territorial integrity and political independence of Ukraine. That's something Russia, a signatory to the Budapest Memorandum, decisively trampled on with the annexation of Crimea in 2014 and the invasion of Ukraine in February. 
Mykhailo Podolyak, a senior adviser to Zelensky, has said that security guarantees must, in essence, include a commitment from guarantors to assist Ukraine in the event of aggression.  
And it's important to add that neutrality – of a sort that Putin might find palatable – is not something Zelensky can simply offer up. Aspiration to NATO membership is enshrined in Ukraine's constitution. 
That's where Zelensky gave Russian interviewers a bit of a lesson in Ukraine's democratic processes. Security guarantees, he explained, would have to be followed by a referendum in Ukraine.  
"Why? Because we have a law about referendums," Zelensky said. "We have passed it. Changes of this or that status… And security guarantees presuppose constitutional changes. You understand, don't you? Constitutional changes." 
And therein lies the difference. Russia has a political system built around one man — Putin — and Zelensky is the head of a democratic state. Even if neutrality is on the negotiating table, the Ukrainian people will have to have their say.  
1 hr 23 min ago
Heads of Russia-Ukraine delegations are now meeting in Istanbul
From CNN's Isil Sariyuce in Istanbul and Tim Lister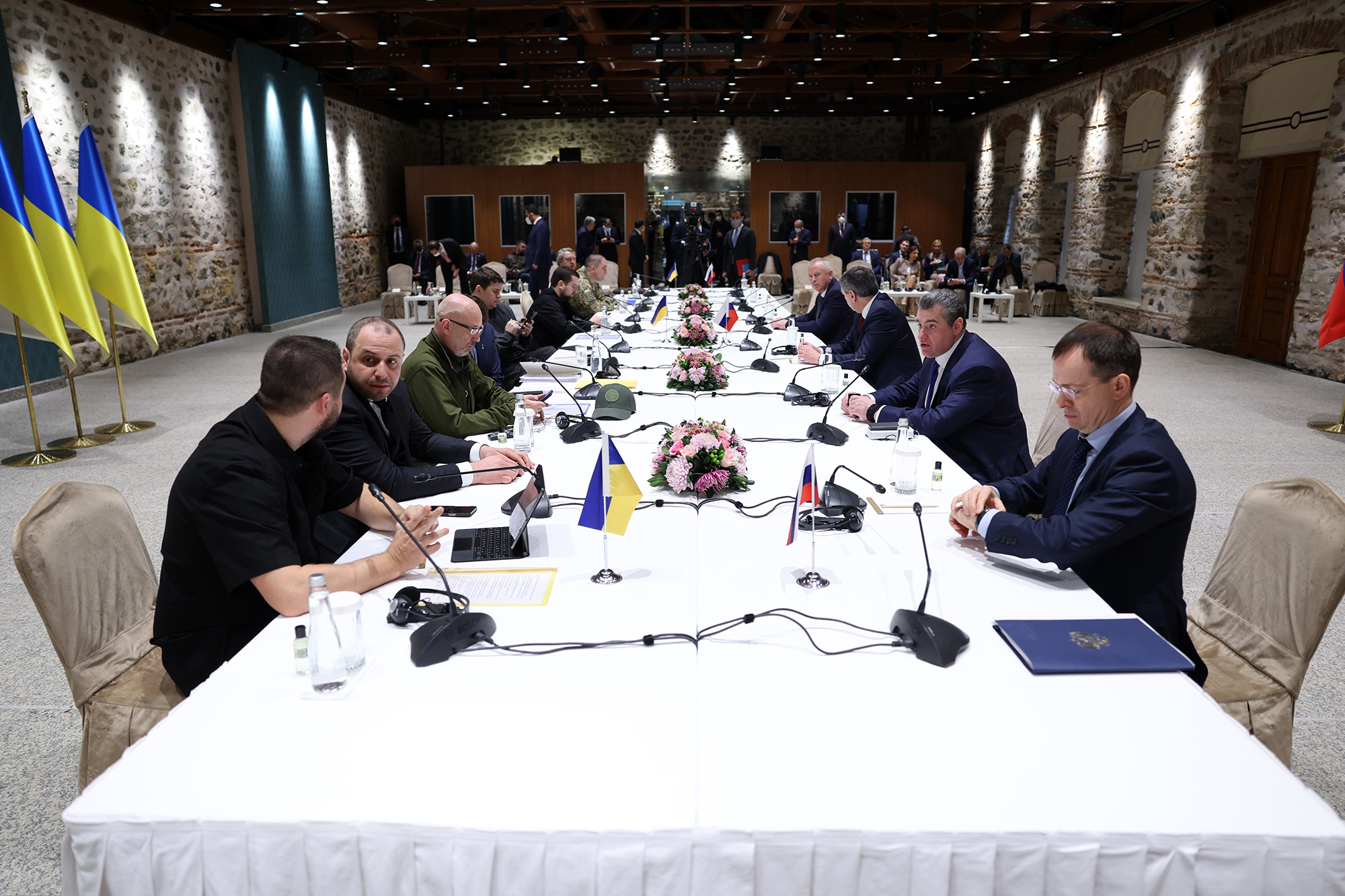 The heads of the Russian and Ukrainian delegations are meeting now in Turkey ahead of the latest round of peace talks at the Dolmabahce Palace in Istanbul.
Russia's deputy defense minister Alexander Fomin is leading the Russian delegation, which also includes negotiator Vladimir Medinsky, while David Arakhamia is the head of the Ukrainian delegation.
Correction: This post has been updated to more accurately reflect the latest developments in negotiations.
1 hr 46 min ago
Erdogan: Now is the time to "expect solid outcomes" from Russia-Ukraine talks
From CNN's Yusuf Gezer and Niamh Kennedy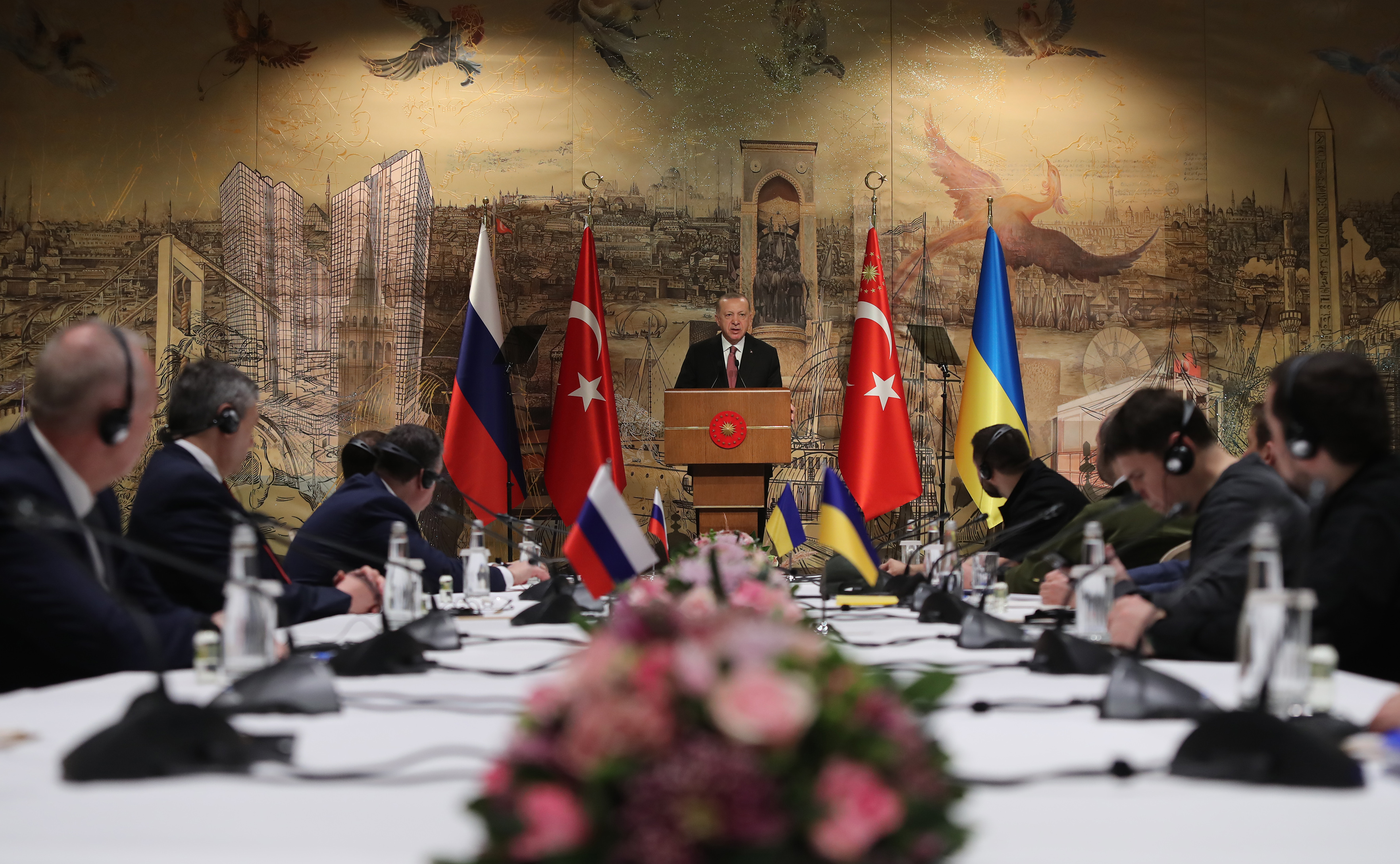 Turkish President Recep Tayyip Erdogan said that now is the time to "expect solid outcomes" from the latest round of talks between Russia and Ukraine.
Speaking in Istanbul as talks commenced on Tuesday, Erdogan stressed that "it's up to both sides to stop this tragedy."
"We think we're in a period where we should expect solid outcomes from negotiations. You're laying the foundations of peace with the directives of your leaders," he said, emphasizing that an "immediate ceasefire and peace would benefit all."
Some context: While Turkey is a NATO member and Erdogan characterized the invasion as "unacceptable" at its onset, the president has tried to position himself as a potential broker for peace between Russia and Ukraine.
Erdogan told reporters Friday that Ukraine and Russia seem to have reached "an understanding" on four out of six topics discussed during negotiations, including Ukraine staying out of NATO as well as the acceptance of Russian as an official language.
Ukrainian President Volodymyr Zelensky said last week any constitutional changes that relate to security guarantees would need to be decided through a referendum and not by him alone.
4 hr 49 min ago
They tried to reveal what life was like under Russian occupation. Then they disappeared
From CNN's Eliza Mackintosh and Yuliia Presniakova
When there was a knock on Yulia Olkhovska's front door at 5:30 a.m., she knew who would be waiting for her in the pre-dawn darkness outside. But she was still terrified.
Ever since Russia invaded Ukraine, rolling tanks into several small cities in the country's southeast, including her hometown Melitopol, there had been a steady, grim drumbeat of disappearances.
Journalists like herself, as well as activists, politicians, public figures and residents in Russian-occupied areas were being picked up off the street and snatched from their homes. She had conferred with her husband in hushed tones about what to do if they came for her; the pair decided they would try to remain calm.
So when five armed men in military uniform turned up at her house in the suburbs of Melitopol on March 21, she took a deep breath and let them in. After carrying out a room-by-room search, startling their sleeping teenage daughter and four cats, the Russians told Olkhovska to come with them.
Read what happens to Olkhovska and other Ukrainians here: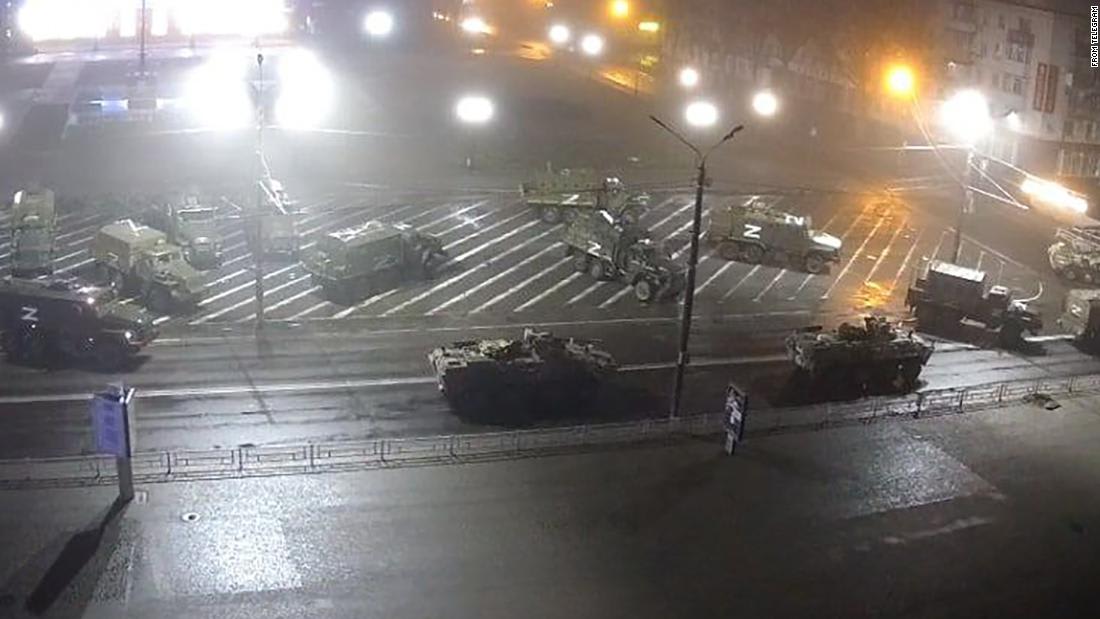 5 hr 22 min ago
It's 7 a.m. in Kyiv. Here's what you need to know
With Russia's troops stalled in many parts of Ukraine, delegations from both countries are set to resume in-person talks today in Istanbul.
Here's the latest:
Talks in Turkey: The latest round of Russia-Ukraine negotiations will be held in-person in Istanbul on Tuesday, according to Russian and Turkish authorities. Russia's Foreign Minister said Moscow hoped the meeting "would achieve our fundamental goals." The last round of talks was held virtually two weeks ago, following earlier face-to-face negotiations in Belarus.
Stalled progress: Russian forces are largely stalled in several parts of Ukraine, including around Chernihiv, Mykolaiv and Kharkiv, according to a senior US defense official. Troops have "made no progress in moving towards Kyiv," though fighting continues on the outskirts of the capital.
Evacuations under threat: Russian forces have consolidated control around the southeastern port city of Mariupol, with evacuation corridors largely under their control, according to the city's mayor. Weeks of bombardment have devastated the city and killed an unknown number of civilians. Those who remain are living without heat, electricity or water. "We are in the hands of the occupiers," the mayor said Monday, calling for a complete evacuation of all residents.
The nuclear question: In a PBS interview Monday, a Kremlin spokesperson ruled out Russia using nuclear weapons in Ukraine, saying Moscow would only use them if there was a threat to the country's existence.
Biden on Putin: The US President on Monday refused to walk back remarks about Vladimir Putin, but clarified it was an opinion, not a change in official policy. On Saturday, Biden made an improvised comment that his Russian counterpart "cannot remain in power" — which sent the White House into clean-up mode over the weekend.
Refugees flee: More than 3.8 million people have fled Ukraine since the war began, according to the United Nations — and half of them are children.
5 hr 16 min ago
Propaganda video with Russian troops claims Melitopol is no longer a Ukrainian city
From CNN's Paul P. Murphy, Yulia Shevchenko and Josh Pennington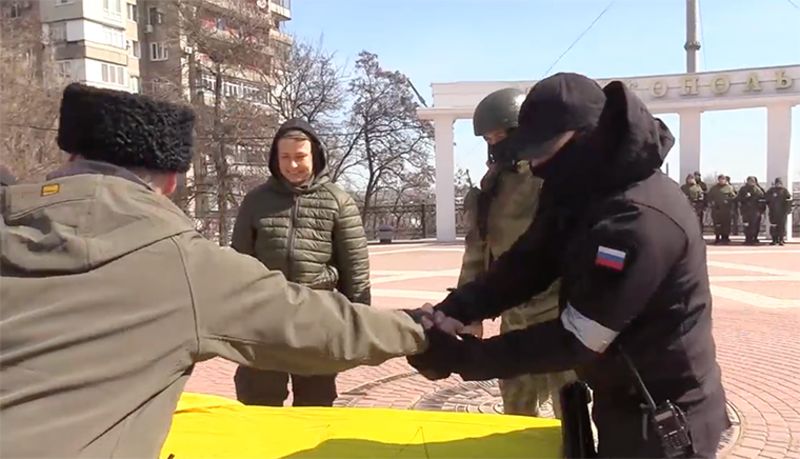 Russian troops and armed individuals recently took part in a propaganda video that suggests Melitopol is no longer part of Ukraine.
The video was published in a pro-Russian "news" Telegram channel for Melitopol, a city located in the southern portion of Ukraine and occupied by Russia since the first days of the invasion.
In the video, the armed individuals and Russian troops are seen writing on a Ukrainian flag in Melitopol's central square. A large Ukrainian flag that flew over the square was taken down on March 14.
The troops and armed individuals were seen on the video writing on the flag, "From the Ministry of Defense of the Russian Federation … the Russian National Guard … the people's militia … the Cossacks." The flag is then seen being taken to the post office and claimed to have been sent to Ukrainian President Volodymyr Zelensky.
A "Z" and "V" are also written on the flag, which are markings seen on Russian military vehicles participating in the invasion.