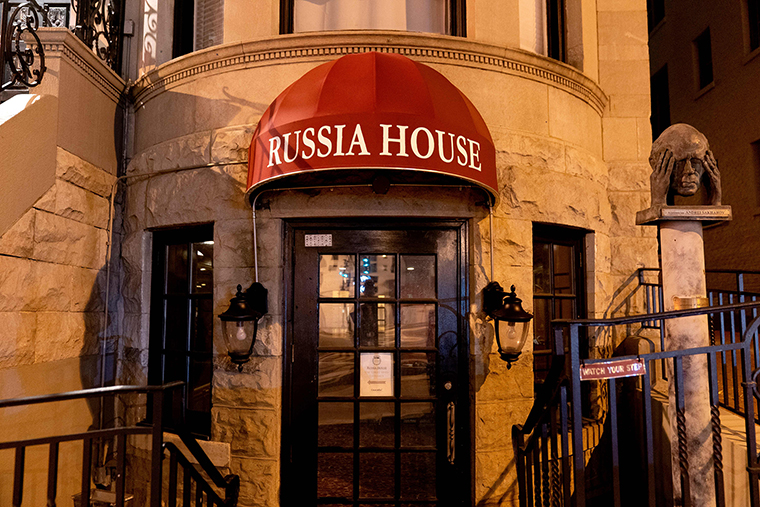 Owners of some Russian-themed establishments in the United States believe they are being targeted as a result of Russia's invasion of Ukraine. 
The businesses said they have received threatening phone calls — and at least one has been vandalized. 
Here's what's happening around the country:
Washington, DC: Police are investigating whether hate or bias was behind vandalism at Russia House Restaurant and Lounge in DC, DC Metropolitan Police said.
According to an incident report, the owner of Russia House told police that parts of the restaurant, including five windows and a door, were vandalized between Feb. 25 and Feb. 27. The report noted that "bias-related signs were affixed to the property."
CNN has reached out to Russia House Restaurant and Lounge but has not received a response. The restaurant is temporarily closed, according to its Facebook page.  
New York: The owners of the Russian Samovar restaurant in midtown Manhattan said they received harassing phone calls and that people have kicked down their sign since Russia invaded Ukraine.
Vlada Von Shats — who is from Russia, while her husband is from Ukraine — said she received a phone call telling her to die, and another calling "us Nazis and Fascists." 
"Calling us Nazis when we are from Jewish descent is just ridiculous," she said. "We stand against this war and we are not for (Russian President Vladimir) Putin."
She said she had not reported any of the incidents to the police.
San Diego: Owners of Pushkin Russian Restaurant in San Diego have received threats following the invasion, according to CNN affiliate KFMB.  
One caller said they would blow up the restaurant "as payback for what Russia is doing to Ukraine," owner Ike Gazaryan told KFMB. Another caller said "you killed my uncle and my whole family, you disgusting Russians," KFMB reported.
Gazaryan is from Armenia, and most of his staff are from Ukraine. Despite the threats, the owner has no intentions of changing the name of his business.  
"This is the restaurant that has been here and the Russians in the United States do support Ukraine and support the people," Gazaryan said in an interview with KFMB.
CNN reached out to Pushkin Russian Restaurant but has not received a response. The San Diego Police told CNN they are not actively involved in any investigation at this address.