Approximately 400 telemarketers a day think I'm old enough for Medicare. I won't be until 2026, but I wouldn't mind if 60-year-olds had the option of buying in. I'm painfully aware that, as Americans, the first question we must answer before making any important life decision is, "How will I be able to afford health insurance?"
Relax. I'm not going to launch into another description of universal catastrophic coverage. Instead, I'm going to talk about the opposite end of the labor pool, those youngsters known collectively as Generation Z. And everything I know I learned from a presentation given by Erin Campbell at the Women's Leadership Summit that Arkansas Business presented in Fort Smith earlier this month.
Campbell is chief marketing officer for Gen Z Brands of Fayetteville, which launched last year with Gen Z Water. Gen Z Water is an aluminum bottle of water that can be refilled and recycled. It's advertised to its target market as a "flavorless transparent liquid" for "people who never owned a flip phone."
Gen Z was born between 1995 and 2010, so they are now 11 to 26 years old. Half are legally adults, so the entire group can no longer be dismissed as "just a bunch of kids." The first Zs are old enough to serve in the U.S. House of Representatives, and one already is.
Generation Z comprises 40% of American consumers. And since half are still minors, they have enormous commercial influence beyond their own $143 billion in direct spending power.
Every generation is "textured, nuanced, different," Campbell said, but this is especially true of Gen Z. Almost half belong to an ethnic or racial minority, and "majority minority" is coming fast. This doesn't scare Gen Z; they celebrate differences, including differences in body shape, skin color and sexual orientation. If you haven't noticed this in advertisements, you aren't paying attention.
"No matter where they land on the political spectrum, they are radically inclusive," Campbell said. Understanding diversity is "part of their DNA."
As smartphone natives, Zs "have the attention span of a goldfish." They would rather text than email. They prefer TikTok, then Instagram, then YouTube. (No wonder Facebook — I mean Meta — bought Instagram.) "They are products of the technology and culture that older generations have built and are profiting from," Campbell pointed out.
But that doesn't mean they are lazy. Geezers like me aren't seeing the political campaigns that Gen Z candidates are running on TikTok — not even the older folks who actually use TikTok because Z knows how to target advertising. They use social media to look for jobs, to engage in activism and to mobilize their peers.
Gen Z is young but not naive. Older Zs have watched their parents go through two economic crises, and the COVID-19 pandemic will be a formative experience. Compared with previous generations, they are more informed, more educated and more engaged with the personal health culture. They drink fewer sodas and more water (thus Gen Z Water), they smoke less, are less likely to use drugs and engage in less underage sex.
Gen Z is loyal — but only to brands and employers who share their values. They want standard employee benefits — everyone needs affordable health insurance — but they also need a sense of purpose that exceeds profit. Campbell used Nike, which embraced NFL protest organizer Colin Kaepernick, as an example of a company that has won the respect of Gen Z by leaning into social justice with "controversial decisions [that] were not irresponsible decisions."
While boomers (born 1946-64) famously refused to trust anyone over 30, Gen Z, primarily the offspring of Gen X (1965-80), have a notable appreciation for wisdom and experience. Millennials (1981-95) normalized living with one's parents longer, and multigenerational households are practical — especially with student debt and a pandemic.
In the workplace, this manifests itself as a craving for mentoring and feedback — and they want it "institutionalized and formalized," Campbell said. They aren't kidding when they ask for input. Be ready to engage.
---
That Gen Z Water tagline about people who never owned a flip phone — I wouldn't carve it in stone. Last month Time magazine named Samsung's Galaxy Z Flip3 as one of the 100 Best Inventions of 2021.
---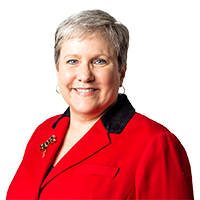 Gwen Moritz is a contributing editor at Arkansas Business Publishing Group.